Warnersound purchase Genelec 8030's for it's mixdown studio
Warnersound have purchased a pair of brand new Genelec 8030's to mix on in it's mixdown studio.  These give an accurate sound to enable detailed mixing and fine tuning.  These are set to be used on some interesting upcoming projects, including work with Tafahum and some live recording mixes.
Warnersound invest in more amplifiers.
Warnersound have just purchased more d&B EPAC V3s for their hire stock.  These are perfect for conferences and concerts with a good amount of power for a sensible price.
Warnersound have added a MIDAS Pro 1 into their hire stock.  This desk is going to be used for a variety of upcoming events including an outdoor opera at Chiswick house as well as a series of live recordings over the summer.  To get the channels from the stage Warnersound use the MIDAS DL251 stage box with 48 inputs and 16 outputs.
More information is below:
Warnersound have just purchased the new MIDAS Pro 1 to add to their hire and events stock.  This desk is well suited for bands and corporate events of up to 48 channels and can be hired as either a 24 channel desk or a 48 channel digital multicore package with a MIDAS DL251 stage box.
The Pro 1 boasts MIDAS preamps to give an exceptionally warm and pristine sound.  The desk features 6 POP groups as well as a host of advanced features to give quick and easy reach of the 48 channels on the 16 mix faders.
This compact sound desk is well suited to acts who need a great quality sound in a small space, or a touring package as a recallable desk which won't fill the van.
For more information and day rates click here.
Warnersound provide great results for Focus Opera's Carmen
Mark Grainger of Focus Opera asked Dave to provide a sound solution which would blow people away at Chiswick House and enhance the performance.  This solution needed to give a clear sound across a wide space, be unobtusive but effective and make a small orchestra sound huge whilst fitting into a tight budget.
Dave deisgned this system by taking a range of measurements onsite and delivered a solution which not only sounded great with enough even level across the garden, but also looked hidden and was such a change to previous years that many people visited the sound desk to show their appreciation to the quality of the audio.
To fit the budget the d&B audio system was just enough to cover the desired area and amp channels were carefully distributed to ensure no watts were wasted.  The new MIDAS Pro 1 sound desk gave a high quality of sound with more than enough channels but again at a sensible price.  All headmics were DPAs to keep the quality of vocals high and reduce any risk of distortion with the powerful voices.
A delayed Q system helped ensure any wind would have as little impact as possible.  The cardioid subs were also delayed, this to reduce the level of bass at the stage end and get more to the back without feeding back in the cellos and double bass.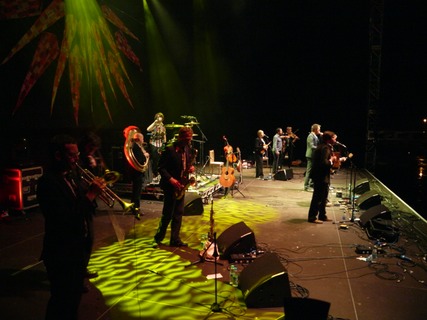 Dave Warner mixes Bellowhead for Scarborough Folk Festival 
Dave engineered Bellowhead on behald of BHSound for the Scarborough Folk Festival.  The changeover was short and required a careful stage plan to get the previous band off and Bellowhead with all the monitors and mics on.  The band began on time and Dave was able to use his experience to pre-empt many of their requirements before the first note was struck.
A fast paced first song allowed Dave to keep on top of the band and ensure all monitor requirements were met quickly and musically.  A great set was had from the band with both truck drivers dancing happily behind the mix position to the rhythmic sound of Bellowhead.
Acoustic Gospels visits Shetlands and Scotland
Warnersound visited the Shetlands with Graham Kendrick, Steve Thompson and Simon Dennis to bring the Acoustic Gospels to the Island.  A very warm reception was had and a great concert.  Local equipment was carefully sourced and a mic and DI package was supplied by Warnersound to ensure the rich vocals and warm bass continued across the sea.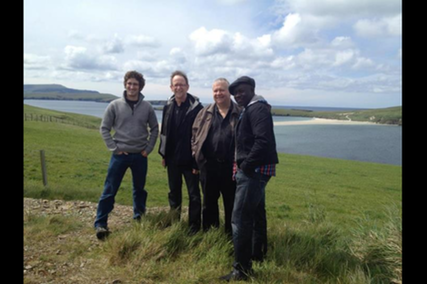 Dave Warner returns to mix Newday 2012
Having been unable to make the Newday 2011, Dave was asked back to mix the main venue for 7000 people at Newday 2012 on behalf of BHSounds.
This year the venue was played end on and a great d&B system design created by Southby Productions.  Needless to say, much fun was had with a first class team of technicians, including James Southby, Sam Tamplin, Sam O'Riodan, Mark Heaps and Jason Brown to name a few.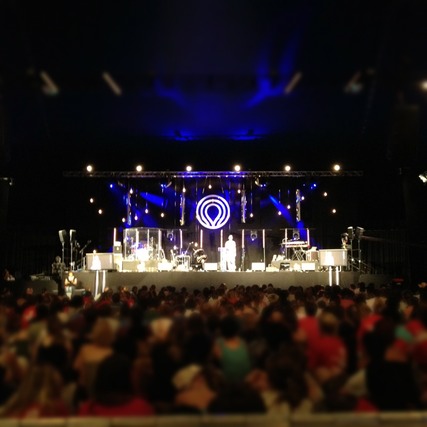 Canterbury Cathedral uses Warnersound for Diocese event feat. Graham Kendrick.
Warnersound were asked by Canterbury Cathedral to provide a sound system for an event celebrating discipleship within the Diocese for up to 1000 guests in the Nave.  Graham Kendrick led the worship with Raul D'Oliveira on Percussion, Simon Dennis on Bass and Tom Nicholls on Keys, a band picked to give the best orchestration for the venue.
Dave Warner designed a system that would sound even throughout the entire Cathedral Nave.  20 d&B Speakers were carefully positioned to give the most direct sound for both the speech and music to be clear all the way down the seating.  This worked so well that Dave received many compliments after the event from guests.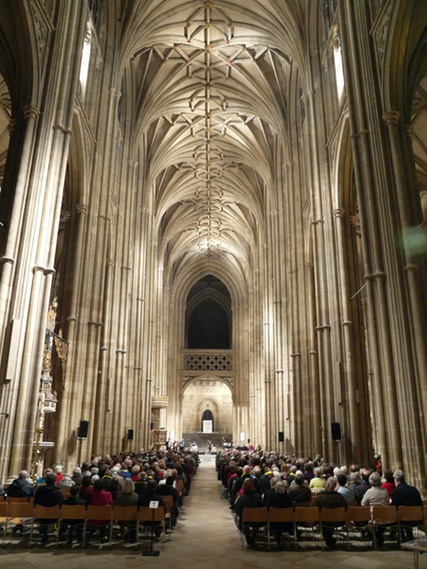 Warnersound provide sound for the London Community Gospel Choir in John Lewis for their Westfield Stratford's opening event.
LCGC invited Warnersound to provide an audio solution for a reduced size choir and keyboard player for the opening day at John Lewis, Westfield, Stratford.  The system needed to be powerful but compact enough to project across the store without looking unsightly.  Warnersound acheived this using d&B FOH and Wedges, and a compact digital desk to add effects and processing to the dynamic vocals.

The staff at John Lewis were very happy with the result, as were the many people who complimented the choir on their sound and energy.
Dave Warner engineers for Jamie Cullum at sell out concert for the Vortex.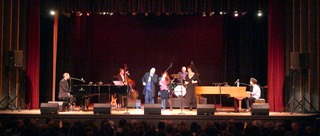 Dave engineered a sell out concert for Jamie Cullum and special guests at the Winter Gardens in Margate on behalf of Southby.  The event featured two grand pianos on stage, a double bass and a drum kit.  The talented musicians took it in turns to play the instruments, with various special guest pianists playing for Jamie.  Dave engineered Front of House, and James Southby engineered monitors.
The biggest challenge was to keep the exceptionally dynamic sounds from the two grand pianos balanced and in context in the large auditorium, made harder with the placement of the pianos being in line with the PA.

The end result was a brilliant night had by the audience and the engineers.  The energy of the artists was transferred to the audience with many good comments being received on the event and on blogs afterwards.
Warnersound improves it's concert and conference packages...
d&B Speakers are now available at even better prices for concerts and corporate events.  E9s are able to give a tight full bodied front of house PA, with E3s to fill in the gaps, be it for delays, front fill, monitors or even as a small PA!
The Acoustic package can now be shipped with powerful speakers, a digital desk, new (and fresh smelling) microphones (Neumann KMS 105, Shure 58s, Beta 58s, a Beta 52, 57s and SE3s) and new clean and good looking K&M stands - yup, they are not the battered old stands or mics often hired from sound companies.  These travel with clean cabling in Peli cases to maintain the good condition of the kit, and also to make it car safe ideal for smaller events that do not warrant a van.  We don't like battered looking kit, just like you we don't want your singers using a rusty mic covered in a history of other singers.  This is a light package for when tying into local PA. 
Winter Snapshot 2010

Warnersound were brought onboard personally by David Fellingham to provide additional equipment and engineering expertise for David's 55 year music extravaganza at CCK in Brighton, featuring over 130 musicians playing together in five different styles of group.
Autumn Snapshot 2010
Sound engineering and mics provided for Phatfish and Lou Fellingham Light Tour... Equipment and engineers provided for function bands at weddings... Audio Visual equipment and engineering for Education conferences...
Summer Snapshot 2010
Warnersound have now completed a week long festival for the Ichthus Church, Revive 2010.  Each venue received comments on the quality of the system with many positive comments in the main venue regarding the best sound they've ever had on the site.  
Warnersound used it's new vocal mic, the Neumann KMS 105 for Chris Orange the Worship leader.  This microphone sounds natural throughout the vocal range and allows the voice to sit smoothly in the mix.
Dave has just finished engineering an event via BHSound for New Frontiers "Newday".  This involved running the sound for a 7000 person big top venue, packed out every morning and evening, with internationally renowned artists Phatfish, Matt Redman, Jules Burt and Jordan.
Spring Snapshot 2010
Warnersound provided technical solutions for the Graham Kendrick Acoustic Gospels tour.  This required a venue by venue solution for sound, lighting and AV, using in house kit where appropriate and supplying kit in venues that could not deliver the warmth and coverage required.  The tour was a success with many compliments from the audience on the quality of the production.