The MIDAS Pro 1 sets a new standard for MIDAS digital mixers with it's all new aluminium frame and 24 channel input count on the desk.  The Pro 1's portability and performance make it a very neat package, perfect for gigs, concerts and touring bands, especially those touring the UK and Europe.  For those who need more channels Warnersound can supply a system with 48 inputs and 16 outputs on the stage using the DL251 stage box and our 4 way cat5e multicore.
The desk is very user friendly with an intuitive interface and colour coding throughout both the GUI and the physical controllers.
Recording packages can be added to the hire cost to give up to 56 channels of audio.  Perfect for capturing your live event.  This is acheived via a MIDAS DN9650 network bridge, a MADI adapter and a RME Madiface card.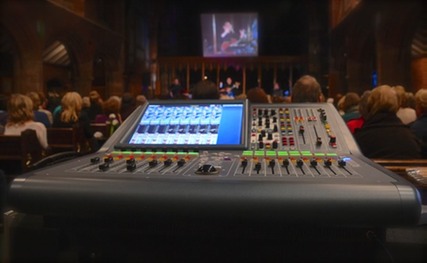 The desk is built to achieve:
100 inputs x 102 outputs (max capacity) point-to-point routing anywhere within the network.
24 mic/line inputs with MIDAS mic preamps
48 simultaneous input processing channels
24 analogue outputs (including two stereo local monitor outputs)
3 AES3 outputs
2 AES3 Inputs
27 sample-synchronous, phase-coherent mix buses
Up to 12 multi-channel FX engines
Up to 28 KLARK TEKNIK DN370 31-band Graphic EQs
Full daylight-viewable display screen
8 VCA groups
6 POPulation groups
96kHZ 40-bit floating-point processing throughout.
Each channel features a gate and compressor with a choice of four different compressor types to suit the use.
FX include a matrix mixer as well as multitap delays, reverbs, phasers and multiband compresors.
Hire Prices:
MIDAS Pro 1 Desk Only (24 inputs, 24 outputs):
Day Rate: £135 + VAT
Week Rate: £405 + VAT
MIDAS Pro 1 Desk (48 inputs), DL251 and CAT5 Multi (50m):
Day Rate: £200 + VAT
Week Rate: £600 + VAT
For more details on the Pro 1 visit the MIDAS website.