Warnersound can install quality audio systems into Venues, Restaurants and Bars.  These will have good quality speakers positioned to keep a consistent level across the restaurant and away from points of sale allowing your staff to be able to hear your customers.
The control system can be as simple or complex as is necessary, with protection built in to prevent the speakers from being broken as well as to keep your customers hearing safe.
A small system may allow for a simple CD input and allowance for computers or small format music players via a mini jack connection.  A radio mic could be supplied with all controls via a small and simple mixer.
A larger system could have multiple touch point controls allowing simple access to the music features at different points of the restaurant.
Additional inputs can be factored in to allow visiting DJs to have a protected circuit, as well as for bands to be able to plug in a local desk.
Full PA systems can be designed for venues where live bands are expected to perform, with allowance for FOH positions and monitor desks and a microphone package to match.  Feelgood's Pizza Restaurant featured vintage style Shure microphones which could be used by the staff to entertain their customers with singing.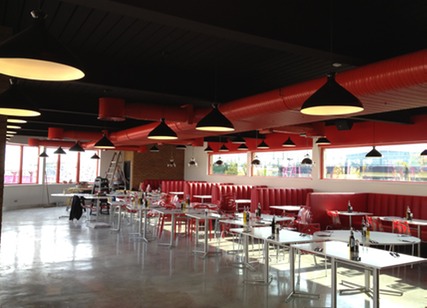 Feelgoods Pizza Restaurant in Southend, designed by Adam Slevin and installed by Warnersound