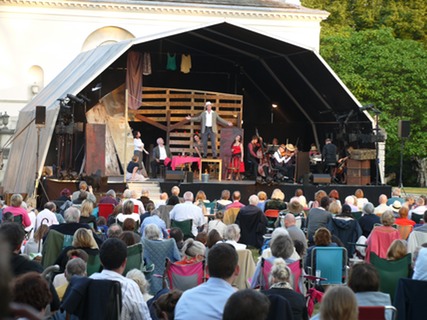 Mark Grainger approached Warnersound to design a sound reinforcement system which would give clarity and warmth across a large open space whilst not looking obtrusive or absorbing the whole of the budget.
Warnersound produced a delayed system which did this and more.  The final product sounded clear and even across the entire audience area, so much so many compliments were personally given on the sound.
To acheive this Warnersound used a delayed d&B Q system in combination with delayed V subs.  These delayed subs helped to keep an even level of low frequency sound without being too loud at the front.  This also helped to achieve a punchy double bass and cello sound without feedback on stage.
The Opera group performed "Behind the Aria" on the first night and "Carmen" on the second.  A 12 piece orchestra provided the music, each fully mic'd to give the most clarity in the PA.  To acheive a high standard of vocals, DPA 4066's were used.  
The microphones were mixed on a MIDAS Pro 1, via a DL251 stagebox which enhanced the audio with it's juicy preamps.  The effects sounded great, and to keep the audio pristine this was then fed into the amps using 96kHz AES digital sound.
The overall effect was just as planned.  A sound system tuned to keep the perspective at the stage and not coming from a speaker.  The vocals were clear and musical, and the orchestra sounded rich and well supported.
At least seven people chose to visit the sound desk each night just to say thanks and ask about just how Warnersound had acheived this level of Clarity.
Some comments from audience members:
"i like your sounds, it's the first year in bloody years I've been able to hear it!"
"I'd just like to say I've never been to an outdoor event where I can hear every word.  How have you made it so clear?"
"Great job, thank you."
Friends of Chiswick house describe the event as a fabulous and spectacular opera with it's "Enhanced Sound System".