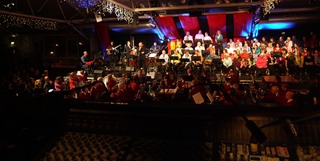 CCK in Brighton were host to David Fellingham's 55 year music extravaganza in December, featuring over 130 musicians... to mix and make this event happen Warnersound were brought on board by the main man himself.
The musicians were an 80 piece choir, a 32 piece string orchestra, a salvation army brass band, a 13 piece big band and Phatfish as rhythm with Mark Edwards on Keys.  The bands played together for the finale and for the majority of the second half played as a whole bar the brass band.
The event was a huge success with Dave achieving "the best sound we've ever had" at the venue, especially with the choir balance to the rest of the musicians.  A DVD is to be published of the event, with Neal Costello mixing down the tracks.
As well as engineering the 56 channels of mics, Warnersound also provided choir mics, solo vocal mics, DI boxes and additional monitoring for the lead vocals and choir.  The d&B E3s used for the choir were able to be flown, drastically reducing the spill into the choir mics to achieve an even purer sound, as well as keeping the sight lines clear.