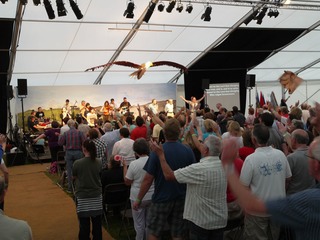 Warnersound were this year asked to provide technical support for the three larger venues at Revive held at Ashburnham house.  These venues included the Main marquee, the Youth Jesus Generation marquee and the Childrens venue.

Each venue required a suitable Audio and Video system which could project evenly across the marquees without hot spots or areas that lacked clarity.
In the main venue carefully placed d&B speakers were used to give power without the need for more boxes, and a dispersion that could cover a large floor area without scaring the audience.  Good quality mics were used throughout to give an audio experience that sounded more hi-fi than might be expected in a marquee worship context.  These mics included the Neumann KMS 105 which enhanced the lead vocal voice presenting it well in the worship.
The band were looked after with ten mixes of monitors for the 14 musicians, including string players and percussion, and these were controllable on stage during sound check via a wireless link into the desk, allowing fine adjustment of mixes without the desperate need for a monitor engineer.
The video system had the ability for Songwords, DVDs and laptop presentations with two powerful projectors and tft monitors on stage to give everyone a perfect view.
The Children's venue required a powerful projector that could handle cartoon images in a very bright undraped marquee.  Special hoods were built for the rear projection to cut out as much daylight as possible without making the venue feel dark.
The youth venue needed a system that could be operated by a local engineer without the possibility of any damage to the kit through misuse.  An easy yamaha digital desk was installed and training given on how to use it, as well as tuition during soundcheck.  The speakers were ran via special amps that would limit and protect the speakers before any damage could be done, in the case of misuse of kit.