Warnersound provide audio visual equipment and solutions to conferences. 
Complete systems include an audio system designed for your venue and conference with both reliable radio mics and lectern mics.  Distributed speaker systems reduce any dead spots within the venue and delaying these keeps the perspective on the stage.  Sounds complicated but this is how we ensure our conferences are a cut above the rest.
For stand alone systems automix options are available which can allow a large number of presenters to be able to talk from a table.  Ideal for debating or panel sessions.
We have a number of visual options, including projection and projection with comfort monitors.  Plasma options can be arranged as can more specialist projects.
Our projection systems can be built to allow redundancy where necessary and switching can be seamless to keep your meeting focused and professional and the focus on the content and not on the blue screen flashing between items.
Current clients include Catch Up and Ichthus.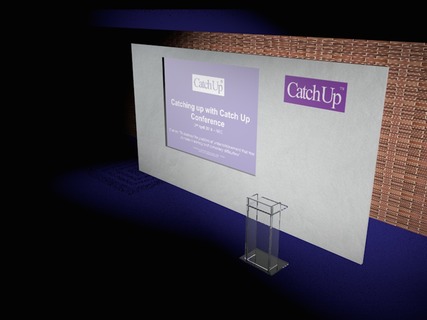 Above:  Basic stage set design for small conferences.
Catch Up is a charity which developes education for struggling and disadvantaged learners.
Of Warnersound Julie Lawes of Catch Up says:
"Really impressed with Warner Sound. People at the Catch Up conferences commented on the high quality of the sound. It was most appreciated that it was all stress free our end! Dave thought of everything and for a reasonable price too! Would definitely use the company again"
Julie Lawes, Catch Up director.  www.catchup.org.uk